Motivation is powered by Vocal creators. You support
Vincent Graziano
by reading, sharing and tipping stories...
more
Motivation is powered by Vocal.
Vocal is a platform that provides storytelling tools and engaged communities for writers, musicians, filmmakers, podcasters, and other creators to get discovered and fund their creativity.
How does Vocal work?
Creators share their stories on Vocal's communities. In return, creators earn money when they are tipped and when their stories are read.
How do I join Vocal?
Vocal welcomes creators of all shapes and sizes. Join for free and start creating.
To learn more about Vocal, visit our resources.
Show less
I Hiked a Fucking Mountain
A personal look into who I was, what I'm becoming and how I'm getting there.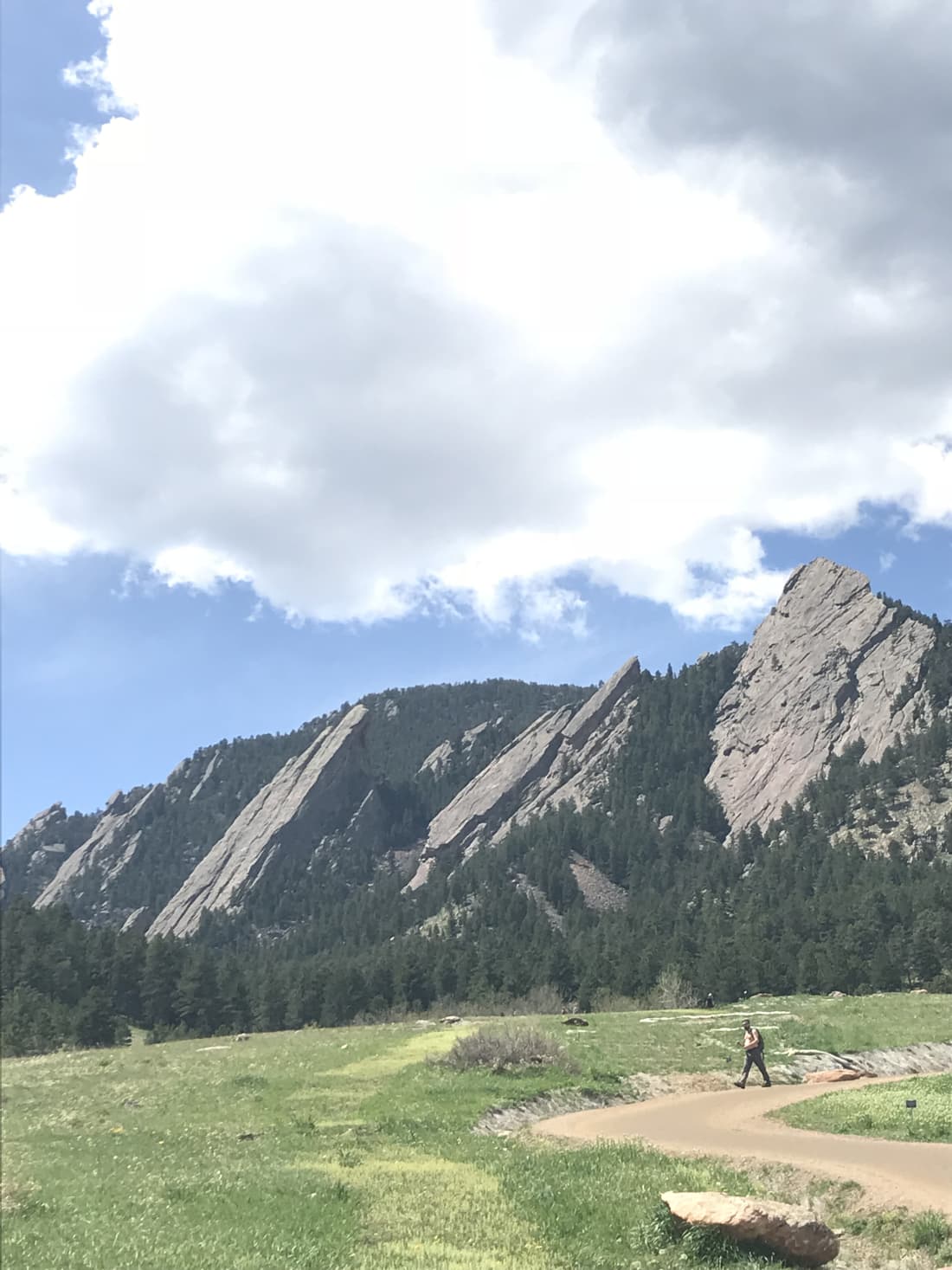 I hiked up a fucking mountain! Me. me! I fucking hiked up a fucking mountain.
Now let me say this about myself, i am a fairly active person. I work out anywhere from 5-7 times a week, I love to bike ride and I did play sports for most of my younger days. That was when college happened.
I went to college in the summer of 1995, full of hopes,dreams and plans. I was going to go and learn how to develop my novice writing skills and become a sports journalist. As we learn through life, things don't always go as planned, instead of discovering how to hone my skills as a writer, I learned about other things, namely; beer, cigarettes, pot, and a card that had my picture on it and allowed me to buy as much food, at any time I wanted to. Let me backtrack here a bit, the words skinny and Vinny have never been synonymous when anyone would describe me. So although I went to college fresh off of playing a season of lacrosse, I also had my last summer of innocence full of long nights at friends houses, beaches, parks, parking lots, anywhere we could go and drink. So a picture of fitness and health I was not.
As I went through my days at school, it became routine, breakfast, class, lunch, which was usually some sort of pizza or a hero with turkey, cheese, extra bacon, lettuce and mayo. (The lettuce made it healthy right). Then we would go to dining hall dinner, that usually followed suit with being as healthy as eating a leather pocketbook. So those were my days. Those days were followed by the bars, and we had fun and we DRANK! God almighty we drank so much. But we had fun.
This routine of eating worse than the items that occupied Oscar the grouch's trash can, and trying to drink my ever increasing weight in beer kept on for 4 years of school and it even got worse.
My second semester freshman year, I started working at the college radio station on the air! When I started to do train at the radio station, I learned what love actually felt like. I was in awe, to me this rinky dink little room in a tucked away building on campus was heaven on earth. My first shift second semester freshman year, was on Tuesday Mornings from 5am - 8am. I didn't care, I found my calling and this was where I was going to start.
Here I am, 18 years old, trying to figure out what the hell is going on in life and where I was in it but gaining a taste of something that made me feel alive, no matter what I was going to make it work. But how in the name of fuck was I going to stay awake?
The answer to that question, Mountain Dew! Remember that card that let me buy food whenever I wanted, yeah well it also allowed me to purchase groceries at the campus store. My grocery list at the time, chips, jalapeño cheese dip (that would be licked clean in one sitting) and a 6 pack of the sugary wonder god known as Mountain Dew.
Picture this, 4am, cold windy central New York morning, I walk into the campus security office to be let into the building that held the radio station, CD case filled all of the awesome (to me) music I was going to play in one hand and a sixer of the Dew in the other. Halfway through my three hour shift I would start speaking faster than a nascar driver would have his car going down the final stretch of the Daytona 500. I was awful, but people would tell me I was funny so I kept on drinking the soda water battery acid because "I was funny".
So now that you've gotten a solid background on how in my younger invincible years, I absolutely destroyed my body from the inside out, I'm going to fast forward the timeline as there will be further entries about my personal life that led to further destruction on this page in the near future.
I recall one day being at a friends house and before we headed out to the bar or wherever, I decided to step on the doctors scale he had in his hot tub room. I shit you not, the scale read 295 pounds. Like most people, my initial thought was "oh this piece of shit scale is broken." Went out and drank until I couldn't see straight and tried to forget that I visually looked like a 5 foot 6 inch vertical version of Janna the Hut.
It was at this time, I tried to make better choices, but it was then, that the most amazing thing happened to me, I got a job in commercial radio! My dream came true! With a slight alteration. Instead of being on the air entertaining the masses with my ever so insightful wit, I was hired to drive a van. Yup, my dream came true, I drove a logoed vehicle to and from events, charity events, car dealerships, grand openings, movie premiers, and best of all BARS!
There was a rule, if you drive the van to a gig, you are to respect the company you're working for and the brand you're helping promote and you will not drink or you will lose your job! HA! That rule lasted until the first appearance I did with our morning show personality, it was happy hour. He walks up to me, says, "you're the new guy right" and before I could introduce myself, he said here's a shot. Can't say no in that situation. And this began a 4 year career, that yes did allow me to get on the air and achieve my dream, but also borderline alcoholism, with a strong helping of sleep deprivation, and fast food runs anywhere from midnight to 2am depending on what time your appearance ended. If you were able to visualize the Jabba the Hut picture, you can only imagine what I looked like at that point.
About 3 years into my tenure at the radio station, I was called into my bosses office. I walked in and there was a sales executive sitting there. My initial thought was "oh fuck what did I do wrong, who did I piss off?" Imagine my surprise when they told me that there was an opportunity for me to be a spokesperson for a new advertiser. Without skipping a beat I said "YES! How much do I get?"
"No Vin, you don't get paid for this, but you will get a 3 month membership to a personal training facilities, for free! They want you to be a walking testimonial on their program and track your results, and you'll talk about it every week on the air."
I reluctantly agreed.
Long story short, in my 3 month trial period, I lost 30 pounds! At that point it was like throwing a folding chair off the titanic, but I felt good. So i kept going to the gym. I did well there, and so well in fact that the personal training facility offered me a job, because I got shit canned from the radio station. (Another story for another time). But even with adapting a healthier lifestyle, and losing up to 50 pounds and finally breaking that 200 pound barrier, I could never really commit to sticking to a way of life that would continually help me reach a goal where I would be proud of my body. But I still try.
Here we are now 15 years after my initial trial three month run at the personal training facility and I'm still trying. Still trying to find the right balance in the food I put into my body to help facilitate the workouts that I'm doing. I now go to a movement "gym". I could go into depth as to what that means, and I will, in another entry, but what it is on the surface is a place where I go to work out, 5-7 times a week and have made deeper connections with people in just over a years time than I have with people I've known my whole life. I even took a trip with 6 of them!
We went to Boulder Colorado. Probably the most visually magical place I've ever seen. Picture a Bob Ross painting come to life. On our last day of our trip 3 of us, my friends Matt, Vicki, and I went on a hike.
Here's the scenario. Me - 40 year old dude, trying to just get better with my physical health every day, doing the best he can. Vicki - a 24 year old young woman, who's as strong as she is funny and trust me she's hysterical, and at the gym she's one of the people that I look at and "man I wish I can do what she does!" She's also one of the people who pushes me and supports me more than most people I've known my whole life in many different areas of my life. And then there is Matt. Matt is a 19 year old young man who is the biggest inspiration I've come across in a long time. Matt started working with our teacher after I did and has converted himself into a young man that is super fit and is able to do gymnast like movements at the facility with the ease of someone that is training for the Olympic trials. When I grow up I want to be like Matt. He's my hero. So there's the scenario, and all I kept saying to myself, is "Do Not Let Them Down!"
We start on the flatiron hike in Boulder Colorado. Now a better writer would reference the altitude or elevation, but I'm not that great and you can look that shit up. Just know it's Colorado it's high and we are staring up at a mountain, but up we go.
It actually started off a lot more difficult than I expected, "why am I sucking wind so hard on the fucking paved portion of this hike?!?!?" But we kept going "onward and upward" Matt would say.
We would get to spots where we were able to take a break, catch our breath, have a chat, and decide if we wanted to keep going. Anytime it came up, I don't think I said anything, but in my head, I was saying to myself, I'm not letting them stop because of me. So we kept going.
I'm glad we kept going at that point because we were able to see some of the most spectacular views that exist, in my opinion. (Pictures below). Every time we would reach a clearing and marvel at the view, quietly i was in my head saying, "I'm good here." But then Matt would come out with "onward and upward", so on we went.
We then get to a point where the trail changes to what I was told was a "rock scramble". When asked if I thought i could do it, i said "what the fuck is a rock scramble?!?"
"Well you'll have to use your hands and feet, do you think you can do it?"
Verbally - "I don't know but I'll try"
Internally - "do not fuck this up for them."
So onward and upward we went. And it went pretty smooth. I feel like I kept up and handled it pretty well, until we got to a spot. A spot where you would need to "rock climb". It was only about 7 feet high, but mind you, we are already really fucking high, and behind the ledge we need to get to there is a legit flat mountain side, that two or three dudes are fucking climbing. Not gonna lie when I'm looking up and I see these guys, I fucking froze. My fear for them, transferred right to me and I locked my feet into the ground. Now we had been standing at this point for a few minutes. Matt up at the ledge, Vicki, slightly above me, and me frozen.
Matt then said, "try and get up if you don't no big deal, we go back down." Again in my head "do not fuck this up for them". But I verbally said "I'll try and get up but I promise I'm going to be a little bitch on the way down." To my surprise i scooted up this area with little to no struggle. Onward and upward we went.
At the next view is when I got emotional, i was doing it, i was keeping up, i didn't think I was holding them back and I was looking at the world from a perspective that i would have never imagined. So yeah, i teared up a bit, wanna fight about it?
As we got towards the top, the ground became a little less unsettled, but really nothing that we couldn't handle. We just kept going until we made it to the top of the mountain.
It was at this point that I turned from my friends, sat down and had a moment with myself. I thought about a lot in that moment. I thought about myself, my life, that person who I wrote about in my college days and radio days, I thought about my dad, and I thought about how lucky am to know that somehow I've positioned myself in my life where I have surrounded myself with the most encouraging supportive people that I've ever known, and that's all you need, supportive, genuine people, belief in yourself, that no matter what your mountain may be, work, weight, diet, family, illness, whatever it is, you can hike to the top of your mountain, just like I did.